Watch the video below to learn more about Diprivan.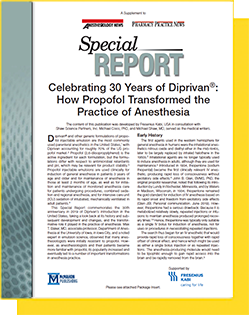 Celebrating 30 Years of Diprivan®: How Propofol Transformed the Practice of Anesthesia.
How Fresenius Kabi makes sure Diprivan is there for you.
Fresenius Kabi leadership: our ongoing investments have enabled us to meet U.S. propofol demand.
From obtaining the raw materials to delivering Diprivan, it can take as much as 6 months to produce a vial.
We begin by sourcing components of the drug and the packaging materials, which include many things like: API (Active Pharmaceutical Ingredient), glass vials, stoppers, labels, shipping materials, and much more.
Next comes production planning: making sure we have everything we need to meet demand for Diprivan. We prepare for bulk production by assessing the ingredients using specific software.
The emulsion is prepared by mixing, filtering, and homogenizing in a series of precise steps.
Quality control monitors and inspects the vials at every step, where product- and process-specific parameters are analyzed.
Vials are carefully filled, sealed, and crimped in a sterile, clean room.
Product quality is analyzed by batch in a series of tests. If the batch is good, the process keeps moving.
After inspection, the vials are labeled and packaged.
In the final weeks, the vials are shipped and stored under temperature-controlled conditions.
Many things can affect this process. For example, a shortage of materials or surge in demand. So we keep a 6-month inventory of raw materials on hand in our manufacturing facilities.
We don't make Diprivan in just one manufacturing facility. We have global production sites approved to produce Diprivan. If there's a problem in one facility, another can pick up the shortfall.
We also strive to keep 4 months' inventory of finished Diprivan in our domestic warehouses so we're well ahead of demand.
And our ongoing investments will continue to support your needs today and tomorrow. That's why Fresenius Kabi can confidently supply you with Diprivan when you need it.
Fresenius Kabi's response to the propofol drug shortages.
Fresenius Kabi increased Diprivan supply by 200%, manufacturing product in multiple facilities to guard against any supply interruptions.

*Based on the average annual units supplied during the time frame shown.
**Based on the percentage increase over the 2008 — 2009 average.
REFERENCE
1. Data on file.